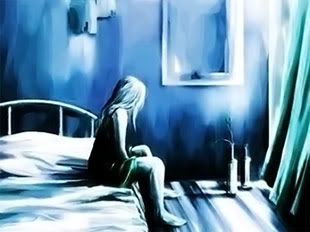 I've been debating over writing this for a while but decided I would the other day after a conversation with a friend. She has also struggled with depression and anxiety, and said that hearing me talk about it so openly, and seeing how well I am now gave her hope. While you might think that a post about depression doesn't fit in with the 'positivity' theme of this blog, overcoming it and knowing that you're not alone in these problems is all about positivity.
One in four people suffer from some sort of mental health problem in their lifetime yet we don't talk about it. Part of that is the shame inherent in the illness, you feel bad enough about yourself without everyone knowing how much you're struggling. However, this stigma which involves keeping your illness as a shameful secret is only going to make things harder. The more I've been open about what I went through the more I realise just how common these problems are.
The recent
Time to Change
campaign has been a big step forward in mental health awareness and tackling stigma. It's hard to talk about these things and one of the reasons I did, and still do in some respects, find it difficult is the thought that if people knew about my illness it would change their perspective of me. I would no longer be this lovely, fun person but instead a weird, depressive type. Mental illness can affect anyone and I've come to realise that depression can go together with any personality traits: it's an illness not a personality in itself. So when people learn that you've been depressed, they may well be surprised - but likely they will have respect for you for battling through this difficult illness.
The people that don't understand mental illness are often given either isolated medical symptoms or sensationalised stories in the media. The people that do understand, because they or someone close to them has gone through mental illness, don't talk about it out of shame. It's only by talking about it that we can tackle misunderstanding and discrimination.
I've had two acute episodes of
depression
and
anxiety
over the past few years. During these times the illness completely took over. Then, there have been times when I've thought I was better and then I've had a blip. Right now I'm the best I've been mentally in a very long time. I got through it: with good people around me and medical support.
Looking back, the defining factor was months of not really feeling, moving or eating. So that's what I'm going to talk about - the day to day experiences of living with depression.
Emotional Sensitivity
In the beginning of a depression I would cry all the time. I would be so desperately sad that I would sob and not be able to stop. I was crawling out of my skin, not able to satisfy any sort of need because there wasn't one - I just felt so sad. Not only would I cry out of sadness, I would cry at anything - especially nice things. I was so raw emotionally that anything could provoke a reaction: whether it was a lovely telly advert or a nice gesture. I remember once my boyfriend at the time had made me some chips to try and get me to eat. He brought them through to me and asked if there was enough mayonnaise on them. Of course - this prompted crying. To me at the time it was the most overwhelming nice gesture. I was being difficult and he was being so caring.
It's in my nature to find the humour in everything and one of the funny moments in retrospect was when I put my shoes on the wrong feet one morning when I was going to the doctors. I realised when I was on the bus, but I couldn't do anything about it. It'd be weird to take your shoes off on the bus and put them on the other foot. This caused me the greatest upset and anxiety having to wait til I got home to amend this mindless mistake. Very bizarre.
As time went on this emotional sensitivity led onto being emotionally numb. I just felt dull. Nothing could make me cry and nothing could make me laugh. Everything was just this mundane shade of grey. This is what I remember: just months of feeling nothing, just merely existing.
Sleep
I once read somewhere that the hormones involved in depression are similar to that of when you are struck down with a virus - telling the body to take to bed to rest. This is what I did. There was no limit to how much I could sleep. Then the less I would do the less I felt like I could do - the destructive cycle of lethargy. As time went on and I had to get on with things, I went the opposite way and had awful insomnia. I would try to do the things you're supposed to do to help - no caffeine, drinking camomile tea, having a bedtime routine etc but nothing would work. Each day the evening would come and I would dread the next day. I felt like the sooner I went to sleep the sooner the next day would come and I couldn't deal with that. I felt this great sense of dread, even despair, that I would have to wake up and do it all again - that I would have to face the world. It was unbearable.
Nightmares
When I did eventually manage to get some sleep at night I was plagued by the most terrifying nightmares. Since those episodes I did research and found that what I was experiencing was a sleep disorder called
sleep paralysis
. This is something which is common to people suffering from sleep deprivation, stress or sleep disruption, and is also associated with anxiety disorders.
The nightmare would be that I was in my bedroom, in bed. The details were exact and I could see everything vividly. I would try to talk but I couldn't. I would hear my flatmate walking past my room and I tried to shout her name but I couldn't. I had my radio on my bed and felt like I was banging it on the wall to try to get someone to come in. Or I would feel for my phone on the bed, I would get it in my hand but when I would try to pick it up it wasn't there. Sometimes my flatmate would come in and sit on my bed and I would explain, in a raspy barely there voice, that I was trapped. She held my hand and from the touch I knew it was hers. Except then she would mutate and would be attacking me, pressing on my chest or even causing me to choke. Other times it would be my then boyfriend, but always they would mutate into a violent malevolent force. Sometimes it would be a little girl just standing in my room but looking away: refusing to move.
It was this uncanny familiarity of my room combined with the distortion of people I trusted and to put it lightly it was terrifying. So even if I did get to sleep, I would wake up feeling anxious and not at all well rested.
Time
Time is a subjective experience, something I really found to be true over these depressive episodes. When I was told that meds could take 4-6 weeks to work I was distraught. I felt like I couldn't wait for that long. However it could also go the other way. I would wake up and be lying in my bed, not sleeping, not moving, barely even thinking - for hours. I would think - 8 hours til my boyfriend gets back from work, and this would seem like an eternity. The next minute my phone would be ringing and he would be outside. He would often wonder how I wouldn't be bored: not reading or watching anything, just lying there. It was like life was just too much for me and my response was just to zone out: physically there but mentally switched off in this almost catatonic state.
Food
With depression you either go one way or the other on many factors including eating - you either over indulge or you eat very little. For me it was the latter option. I would spend most of the day in bed and then would try to eat a meal late in the evening, which I would never be able to get through. Everything was either too bland or too unbearable. I could barely taste the food I was eating, and it felt like too much effort physically to chew an entire plate's worth of food. Even if someone prepared the nicest meal for me - there was no appetite or even capacity to enjoy the food. I ate because I had to, and even then very little. Inevitably, this didn't help with energy levels.
Alcohol
One thing I'm certain of is that alcohol and depression do not go together. You think it will make you feel better to go out and have a drink, but alcohol is a depressant and it will bring you down. I would be left emotional and impulsive that night but also I would feel worse for the next few days. Our culture is obsessed with drinking but you just have to find the strength to say no and know that it is for the best. My Dad has also had to give up alcohol. Where I would go out and go wild drinking, he would drink every evening at home. Alcohol interferes with mood and hormones, but especially when you are on medication - you will not be able to handle your drink the way you used to, and the medication will not be able to work effectively either.
Treatment
With my first episode I refused medication but tried counselling. I didn't engage in the counselling. I felt that the man that was treating me didn't understand and it was with great reluctance that I would attend these sessions for what was often an agonising hour before going home having gained nothing. I ended up getting better over time. It took a long time but I got there. Reading helped me a lot, especially
Eat, Pray, Love
by Elizabeth Gilbert but also having to be there for a friend when they were going through a manic phase was something that ended up dragging me out of my own depressive episode.
My second episode required more help than the first. I knew the warning signs and tried to help myself as much as I could. I went to a workshop at my university on 'dealing with low mood and depression' where a psych student read out from a powerpoint the symptoms of depression: not helpful at all. I was very reluctant to go on anti-depressants, feeling I should be able to cope without them. This is ridiculous - imagine if a diabetic was insistent on beating their condition without insulin. However it's a surprisingly common reaction. Me & my Mum have often talked about how medication is probably actually under prescribed as people are so stubborn about going onto meds - pride and shame being a huge factor in this. I ended up on Citalopram which I still take now even though I recovered a long time ago. I also went for counselling again. By this point the medication had lifted my mood and this, in combination with a different counselor, meant I could really engage with the treatment. I was put on a waiting list for CBT which I received about 8 months after my episode when I was doing well but I still went. Prevention is better than cure and I wanted to understand and be able to tackle these unhelpful and unhealthy behaviours which contributed to the illness.
---
I got through it in the end. I know that I may have bad times in the future but I know the warning signs and I will go straight back to my doctor if I spot them. It helps to talk about it but crucially if you are suffering you need to get help: whether that's in the form of therapy, medication or a combination of both which is what worked for me. There is no shame in getting help. It is an illness like any other and the sooner you get help the sooner you get your life back. It's hard - but there is always hope, and you are never alone.
"If you can't fly then run. If you can't run then walk. If you can't walk then crawl. But whatever you do, you have to keep moving forward."
Martin Luther King
---
See also:
Have Hope
A response to Ruby: how honest should you be about your mental health?
Writing about mental health
What is anxiety?
My experience with the anti-depressant Citalopram