-- the capacity for Theatre of Testimony to accurately and responsibly present political issues and stand in for oppressed social groups ("the other") in a theatrical context
[This is another piece of work written for a political theatre course which I thought I'd post on here! Hence the formalities...]
Introduction
There are ethical concerns when bringing a sensitive, political issue to an art form such as theatre: to represent accurately and to avoid sensationalising the topic. Emotion can engage an audience and encourage empathy but it can also detract from being able to intellectually consider the political issue. Perhaps sympathy encourages looking down on the individual, and heightens the oppression they already feel: to empathise, without feeling "sorry" for the individual, may be preferable. To place a real event or issue in a theatreical production introduces the risk of misrepresentation. Theatre practitioners have begun to use Theatre of Testimony to avoid this problem: conducting interviews and using real words of people who have struggled through these political issues. The simplicity of gathering the script through transcribed interviews often is reflected in minimalistic productions – allowing focus on the issue over staging.
I have chosen to focus on Jessica Blank and Erik Jensen's The Exonerated - which uses Theatre of Testimony to discuss social inequality and judicial injustice, from multiple personal accounts. I will focus on some theatrical attributes that can contribute to the politics of representation (Auslander 63) and how they affect Theatre of Testimony's capacity to represent.
The Exonerated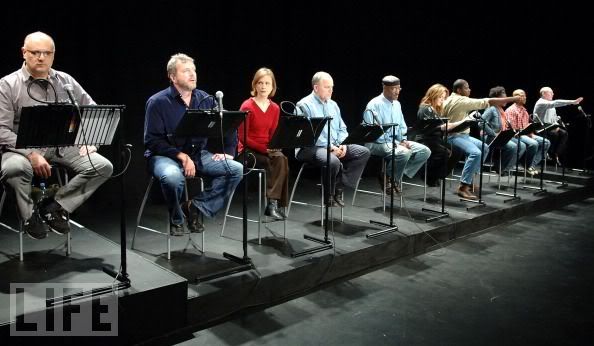 In The Exonerated Blank and Jensen tell the stories of six former, and cruicially – proven innocent, death row prisoners. Being a wrongly convicted prisoner on death row is not something anyone in the audience would be able to share. Sunny Jacobs states - 'from 1976 to 1992, just remove that entire chunk from your life, and that's what happened' (Blank 69). This incites the life changing effect judicial injustice can have: asking the audience to not just listen to their stories and sympathise, but to actually envisage sixteen years disappearing from their life. Theatrically, this is powerful – but is this just effective storytelling or does it hold political power? Blank and Jensen did not just take The Exonerated to theatres to entertain, they took the play to the people who could make a difference. They presented one performance for Governor George Ryan of Illinois as he 'was considering to commute the sentences of over 140 Illinois death row inmates' (Fineman np), as well as performing at the United Nations. Rather than just making audiences think, when pushed to the right people Theatre of Testimony can affect political change. Receiving the Defender of Justice Award from the National Association of Criminal Defense Lawyers in 2003 (Fineman np) conveys that the people the play was representing approved of the work, and deemed it important: not just theatrically but also politically.
Staging
The Riverside Studio's
production of The Exonerated was presented as a read-through with the cast in a seated row, with their scripts in front of them. The six stories were presented by monologues and duologues, with a spotlight used to light up whoever is talking to keep focus solely on their narrative. There was characterisation but no physical action. The performances were believable but understated. A review in The Independent stated that 'the quietly compelling production, by Bob Baladan, is all the more effective for keeping its anger so controlled. With an argument this powerful, there is no need for raised voices' (Taylor np). If Baladan had deemed such 'raised voices' necessary, the audience would become engaged in the inevitable drama of emotion, rather than its source – the political issue. While it was a simple read-through staging, characterisation was still in place but that was still understated: the accents and relationships between couples were necessary to the narrative. The audience were presented with facts but also real stories, which they were made to care about.
Casting
One theatrical attribute which can influence the capacity of Theatre of Testimony to represent is 'the politics of the performer's 'presence'' (Kershaw 72) – charisma or a known face can detract from the representation of the 'other', instead bringing focus to the actor. With The Exonerated's simplicity of staging, the audience are left to comment on the material at hand rather than on performances or staging. Even with the addition of film-star cast members such as Robin Williams and Stockard Channing (Smith np), this is not a production which indulged in ego. The cast changed weekly and as such it was never 'The Exonerated, starring [insert film star's name]' – it was always an ensemble piece with the story of the wrongly-accused at its centre. The Stage's review comments on 'a restrained dignity in its central performances' (Smith np): 'dignity' being a significant necessity in presenting real stories in Theatre of Testimony. While politically worthy, a performance such as Anna Deavere-Smith's Fires in Mirrors is more egotistically dubious: featuring twenty-nine monologues all performed impressively by herself – it could be said that the focus falls more on her characterisation skills than on the narrative itself. Brian Phillips, another practitioner of Theatre of Testimony, writes about how an actor can 'unwittingly hijack' (272) a play and Baz Kershaw writes on being wary of charisma in politics (72): as theatre and politics merge in Theatre of Testimony, these are issues that can affect a responsible portrayal of a political issue or social group.
There is a stigma, or snobbery, around the "celebrity" actor in the theatre. Despite the fact actors often train and work first in the theatre before moving into screen work, there is often scepticism as to their ability to accurately represent an issue such as this. Critics often take issue with the fact that it is the celebrities that get audiences into the theatre rather than the material. Whether the casting is due to merit or marketing – this revolving cast of big names alongside working theatre actors, got the political issue of capital punishment and an unfair judicial system across to more people than it may have done otherwise – and as Anne Bogart writes: '[…]if theatre were a verb, it would be 'to remember'' (22). Instilling these social issues, such as racial warfare or judicial injustice, in the memories of its audience is one of the reasons why Theatre of Testimony is an important political force, and also why this is a task which should be tackled responsibly.
Representing the "Other"
We know that practitioners working in this field conduct interviews and research to on their chosen subject and ultimately to have something to put on the stage. It can prove difficult however to choose which particular narrative, out of the many interviews conducted – to focus on. The Exonerated's production process involved around sixty interviews (Blank 7), yet only six individual's stories are presented onstage. Helena Enright, a practitioner working in verbatim theatre, spoke on the difficulty of this decision: which will be the most entertaining story, the most moving, or the best able to represent the issue (Enright np). This is another difficulty of representation: this style of theatre gives a voice to those who do not have a voice (Phillips 272), yet we do not get to know the stories of those who did not make the final cut. Equally we generally do not know how this choice was made: due to structure, or perhaps these unheard narratives would have caused more controversy than positive attention for the performance. Blank and Jensen describe this as an 'extremely difficult process of paring down the number of stories in order to tell each one more fully' (Blank 7). This statement portrays the writers' responsibility to the narrative. If more stories were featured the play would inevitably, and potentially carelessly, skirt over details which would be disrespectful to the represented individual and to the political issue.
We can, however, take reassurance from how the '[interviewees] were from vastly different ethnic, religious, and educational backgrounds. […] The only […] common [feature] was that they had each been sentenced to die' (Ibid). Presenting a plurality of narratives from a broad range of sources increases the capacity of representation, with the stories varying in perspective. While the actors stand in for 'the exonerated', the writers stand up for them by portraying these narratives with the underrepresented black people and white underclass at the mercy of a police force who are 'less interested in solving murders than in notching up convictions' (Taylor np). Blank and Jensen represent 'the other' in showing how they are both oppressed and thus convicted without reason, and also that their stereotype is unjust – and the devastating effects this oppression can incur: imprisonment and potential death.
Equally, while the writers had to choose which narratives to represent, there is also the issue of the individual narrative being edited down. Something is bound to be lost in translation from public records to a theatricalised presentation of the cases, and the writers acknowledge this stating - '…none of these interviews, transcripts or the play itself should be considered completely representative of these cases' (Blank intro np). It is understandable that the authors/editors provide this disclaimer. Perhaps more pieces of work should consider doing so. If the writers of a piece that came from witness accounts and interviews can hold their hands up and admit that this play is not a completely fair representation, what about the writers of purely fictionalised political plays? Perhaps it is deemed unnecessary as fiction makes no claims to authenticity. The writers go onto state that 'A full transcript of a trial can be [between] 50 to 60 thousand pages. With only 90 minutes to relate the events of these lives there are bound to be differences of opinion, omission of details ' (Ibid). For the audience of the play this is the closest thing to representation of the cases they will acquire. The news, whether on television or in print, is edited to only include the most significant, or most dramatic and thus "newsworthy" details. The average person will not have access to the testimonies of the individuals affected or transcripts of trials. This condensed version, which includes the stories of many, may be the closest thing to representation, and thus understanding, of the issue the average audience member will get.
What the Future Holds…
It is an ironic frustration that in questioning the politics of representation, this analysis of a singular play can not fully represent the Theatre of Testimony and its capacity to faithfully represent a political issue on the stage. Future productions which will explore Theatre of Testimony's capacity to represent political issues include The Two Worlds of Charlie F (News np), a play which opens on 22nd January 2012 at Theatre Royal Haymarket. This is the story of injured soldiers and will be acted by the soldiers themselves, showing the effect of Theatre of Testimony when using authentic sources. Perhaps this is the only true way of remaining respectful to the represented other. In DV8's Can We Talk About This, the opening line is taken from a testimony but posed as an active question – 'raise your hand if you think you are morally superior to Al-Qaeda.' There is an awkward moment of wondering whether or not to raise your hand (Eltringham np). Is it a rhetorical question? The fact that it is not 'do you feel you are morally superior…' but rather 'raise your hand if…' implies not. Here we see the possibility of presenting Theatre of Testimony in an inescapably physical manner which weighs on the audience's conscience, rather than letting them remain at a safe distance from the work. These productions will provoke further discussion on the representation of the "other" and verbatim.
Conclusion
What the analysis of this play may suggest is that simplicity is key – the stories will speak for themselves (Enright np). Equally while there is often a worry of "preaching to the converted" – presenting political subjects in a theatrical setting will often bring the issue to more people than if it were to remain in the realm of the news, an arena which we must not forget is also highly edited and limited in its representation.
While the stories presented are shocking and sad, there are humorous moments such as when Sunny remarks, 'I mean, I'm a hippie. I'm one of those peace and love people. I'm a vegetarian! How could you possibly think I would kill someone?' (Blank 50) Moments such as this convey that these people weren't "bad". They were just ordinary, unlucky people: this atrocity, in this judicial system, could happen to anyone. A frequent complaint of political theatre is that the only action audiences will take on leaving the theatre is to talk or comment via social media about what they have seen. What Theatre of Testimony such as The Exonerated hopes to do is to move the audience emotionally by 'bringing audiences face to face with the intolerable human consequences of a wrongful conviction' (Blank Intro np) within the theatre, and then to move them to take action with links to organisations such as Amnesty International. Not only is the play representing the issue but it is lending it supporters who can take physical action. Political plays which use the Theatre of Testimony method, and make the audience aware of the authentic nature of the material, fight to prevent the audience being 'immunised by the fiction of the theatrical situation' (Kelleher 38) – grounding the material in the reality of the situation.
Works Cited
Blank, Jessica, and Erik Jensen. The Exonerated. London: Faber and Faber, 2006. Print.
Bogart, Anne. A Director Prepares: Seven Essays on Art and Theatre. London: Routledge, 2010. Print.
Eltringham, Louise. Publicity Meeting on Can We Talk About This. Brighton Dome Foyer Bar, Brighton. 8 Sep. 2011.
Enright, Helena. "Theatre of Testimony." Verbatim Theatre Workshop by Dr Helena Enright. Silverstone, University of Sussex, Brighton. 9 Nov. 2011. Speech.
Kelleher, Joe. Theatre & Politics. Hampshire: Palgrave Macmillan, 2009. Print.
Kershaw, Baz. The Radical in Performance: Between Brecht and Baudrillard. London: Routledge, 1999. Print.
"News: The Two Worlds of Charlie F." Bravo 22 Company. Ed. Anoushka Warden. Theatre Royal Haymarket, 22 Dec. 2011. Web. 26 Dec. 2011.
.
Phillips, Brian. "Testimony in Transmission: Victim and Witness Narratives in Contemporary Drama." Journal of Human Rights Practice 2.2 (2010): 271-86. Oxford Journals. Oxford University Press, 24 May 2010. Web. 29 Dec. 2011.
.

Smith, Alistair. "The Exonerated." Rev. of The Exonerated. The Stage 2 Mar. 2006, Reviews sec. The Stage. The Stage Newspaper Limited, 2 Mar. 2006. Web. .

Taylor, Paul. "The Exonerated, Riverside Studios, London." Rev. of The Exonerated. The Independent 28 Feb. 2006, Theatre & Dance | Reviews sec. The Independent. Independent.co.uk, 28 Feb. 2006. Web. 1 Jan. 2012. .

The Exonerated. Ed. Carol Fineman. Web. 20 Jan. 2012. .

The Exonerated. By Jessica Blank and Erik Jensen. Riverside Studios, London. Mar. 2006. Performance.