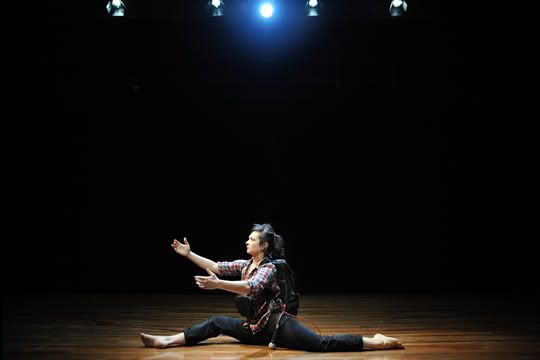 One of the courses I'm currently doing is called 'Performing the Body' and it is
incredible
. It is introducing me to a whole host of performers that would have had no way of coming into my realm of knowledge had I not been on this course - Ivana Muller being one of them, and I was lucky enough to catch her performing at
The Basement
in Brighton last night.
Ivana opens the show by detailing how she has been commissioned to make this performance piece, and the conditions behind this commission - an interesting concept in itself. She was not allowed to use video performance and had to simply present herself, alone, for the first time since 2002 - "live." While I will go on to talk about the performance,
Ivana's website
gives a brilliant list detailing what Ivana "does".
"So, Ivana took this commission as an opportunity
to stage herself
to stage the act of performing / performance
to stage the idea of the consequence which that moment might have had for her future and the future of the spectator
to stage the doubt of performing not good enough
to stage the strategies she wanted to use in seducing the spectator
to stage herself as a tourist
to stage herself as a suicide bomber
to stage herself with a parachute
to stage herself on a mission

And, she took this commission as an opportunity
to be physical
to smoke
to wear high heels
to have a giant back-pack
to be observed
to lose control over herself
to put herself in a special thinking mode
to sing
to dance
to be tragic
to be theatrically uncorrect

and to leave without saying goodbye."
I like that even that description seems performative. So, to the issue of talking about the piece.
Ivana has an almost "double presence" in her piece: her physical self on the stage, and the recording of her voice which narrates the performance, through a playing device carried in a bag attached to her. This voice takes the form of a series of pre-recorded statements in the present tense, whether about an action or a feeling, in the form of "I would like to take this opportunity to...". Ironically, after spending an hour doing this, Ivana comments at the end of the piece about the difficulty of saying whether it was a pleasure performing for us, with the words being recorded weeks before the performance, but that she "thinks it was."
The idea of representation is played with, such as when Ivana smokes a cigarette on stage and speaks about doing this despite having given up smoking successfully for the past four years because it is not really "her" smoking. She later comments that, since developing this performance, she has gone back to smoking in real life because of her difficulty separating the real and the representational.
Equally, Ivana played with the idea of expectations. She is a performance artist with many different strands to her career but she is largely known as a chorographer/dancer, and so to stay so still for the majority of the performance is resisting what people may expect of her. She pushes this even further when she acknowledges this, sets us up to think she is about to dance, before insisting she will not but instead will play music and let us imagine her dancing. I was so willing her to dance: knowing she could and that she wasn't was all sorts of frustrating but then there was a beautiful few minutes of just imagining her dancing. She made us do the work, and it was worth it.
Something I found brilliant and endearing about Ivana was the willingness to show imperfection: both in her recorded voice and in her physical presence. Interspersed between her statements of opportunity were the sounds of turning pages, her drinking water and clearing her throat which put the production process at the heart of the actual event. I loved being able to simultaneously see Ivana "performing" and also imagine her actually producing these recordings. Equally, while a hidden extra carried Ivana on their shoulders because she wanted "to take this opportunity, to get high" - there were moments of nervous laughter or grasping onto the rafters for balance: there was an element of risk. She was trusting an extra she had met that day to carry and maintain her weight for several minutes, with the performance potentially losing focus at any moment.
When Ivana states she will sing a song, I thought that maybe this would be a repeat of the imagined dance when in fact she sang along into her microphone to a song. Her voice was adequate but not brilliant. She is a dancer yet she did not dance. She is not a singer and yet she sang. She resisted expectations of her as a performer and instead let herself be vulnerably imperfect, and we loved her for it.
What fascinated me about
60 Minutes of Opportunism
is how little Ivana did, or appeared to be doing, and yet how engaging she and the piece were. She played with us and our expectations by deconstructing her own performance as it happened. With the minimalist set, the unwillingness to speak "for real" and to give in to the pressure to dance, she led us to use our imagination, in a way which I hadn't needed to for a long time: and it was beautiful.